19 Social Media Marketing Campaigns to Inspire You in 2023!
Social media marketing campaigns are crucial to your digital marketing strategy.
With social media usage being what it is, it's essential to have a social media presence to stay competitive.
And it involves more than just one social media post on one social media channel.
But you don't need to be some popular social media influencer to do it.
(And we'll even give you a hint: cats — lots and lots of cute cats 🐾.)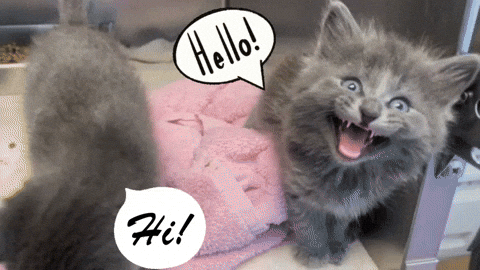 Check out these 21 inspiring examples to use as a starting point for your own creative campaigns.
What Is a Social Media Marketing Campaign?
Social media campaigns help you strategically promote your products, services, and events on social media platforms.
It involves creating content (including audio, video, images, captions, copy, etc.) that appeals to your target audience's needs and desires, investing in social media management, and engaging with followers.
Social media campaigns differ from traditional marketing strategies because it's usually time sensitive.
Your goal is to get much more engagement in a short time than you normally aim for.
Some KPIs to Consider
When it comes to measuring a successful social media campaign, there are a number of key performance indicators that can be monitored and measured.
Engagement — indicates how well the campaign is reaching your target audience.
Reach — gauges how many people have seen your campaign content.
Conversions — indicate responses such as new subscribers or purchases.
A social media analytics platform will help you track these KPIs and identify trends that may indicate which elements of your campaign are working well and which need improvement.
Social Media Marketing Campaign Examples
1. Apple: Shot on iPhone
Platform
Instagram and Twitter
The Campaign
This annual campaign started in 2015, inviting users to share their best shots on social networks.
A panel of judges would review them all and select a few to be featured on billboards, at Apple retail stores, and online.
It's a great way to showcase what the iPhone is capable of by not just showing what its features can do but how far you can actually take the high-quality image it can capture.
As technology evolves and newer iPhones come out with even better tech, it keeps this social media strategy interesting every time.
Why it worked
It's easy to produce user-generated content, and the incentive is thrilling — you could capture a shot or a short clip that might end up on a billboard for thousands of people to see.
2. Planters: – #RIPPeanut
Platform
Twitter
The Campaign
This is a bit of a bizarre story, but the campaign evolved around the death of the beloved mascot of Planters snack foods in 2020.
The company announced his death and, in commemoration, created this campaign encouraging people to reply to the announcement with a #RIPPeanut for a chance to win some snacks.
It worked — some brands and other popular users boosted it.
The announcement was retweeted almost 50,000 times, and the hashtag hit a million uses on Twitter.
Talk about a viral obituary!
Why it worked
Sometimes, it's the eccentric ideas and twisted humor that work and make campaigns like this go viral.
3. Netflix — "Wednesday"
Platform
Twitter, YouTube
The Campaign
Netflix went all out with its campaign to market the series Wednesday.
They created an animated robot of "Thing" and let it "walk" around the streets of New York, freaking out passersby and recording their reactions on film.
The video surpassed 10,000 views.
The show went even further, creating quirky billboards and posters with pictures of "Thing" and iconic quotes from the title character.
As a result, it's one of the most-watched shows on Netflix.
Why it worked
It's quirky, creative social marketing on a niche series that appeals to a huge target market.
They entertained the public with their campaign in a relatable, catchy way.
4. Cheetos' Snap to Steal
Platform
Snapchat
The Campaign
Cheetos' Snap to Steal literally uses Snapchat to steal users' attention.
The app allows users to snap photos and videos with filters and then share them with their friends.
The app is fast-paced, engaging, and effective for promotional social media marketing.
By using Snap to Steal, Cheetos is able to target users who are most likely to be interested in their products.
This allows the company to reach a large and ready target audience quickly and easily.
In addition, Cheetos can track how many users view their social media ads and how long they spend on the app and improve their social media marketing strategy accordingly.
Why it worked
Cheetos synchronized simplicity with a fast, interactive approach on a social channel where the intended target audience hangs out.
5. Starbucks — "Energy That's Good"
Platform
Instagram, Twitter, and YouTube
The Campaign
The campaign was launched in 2018 to promote Starbucks's commitment to sustainability and ethical sourcing.
They featured videos that highlighted the positive environmental impact of their supplying coffee farms.
Starbucks also showcased its waste-reducing efforts through recyclable packaging.
Customers were encouraged to use their hashtag #StarbucksEnergy to share stories about how they get their energy from Starbucks.
Why it worked
It resonated with customers on an emotional level and highlighted the company's commitment to sustainability and ethical sourcing.
6. Airbnb — Supported Ukrainians
Platform
Instagram, Twitter, Facebook
The Campaign
In a bid to support the Ukrainians, Airbnb launched a special social media campaign to help boost tourism in the area.
It also sparked the idea for guests to virtually book an Airbnb to contribute financial aid.
Airbnb also waived hosting and guest fees for Ukrainians.
As a result, Airbnb bookings took off in Ukraine, surpassing 61,000 bookings in two days alone, generating over $2 million in donations.
Why it worked
People love an opportunity to help others. It feels good, and it's the morally right thing to do.
7. HBO — "House of the Dragon"
Platform
Twitter, Instagram, and YouTube
The Campaign
HBO partnered with Digital Media Management (DMM)to promote House of the Dragon, the prequel to Game of Thrones.
DMM managed both the legacy Game of Thrones social channels and the new TV show's social media accounts to help bring both casual and diehard fans into the golden age of the "Targaryen" dynasty.
Collaborations with key influencers, combined with compelling exclusive content from cast members and crew, BTS footage, and interactive challenges for fans, made for a winning recipe.
House of the Dragon became HBO's most-watched premiere with nearly 10M viewers and the #1 most social episode per Nielsen.
Why it worked
The campaign used an extremely intensive and comprehensive approach.
8. UN Australia: #EmpowerMoves
Platform
TikTok
The Campaign
The UN Australia EmpowerMoves campaign taught basic self-defense moves through a choreographed TikTok dance.
@unwomenaust #EmpowerMoves is the dance that's also self-defence. Join the movement today. #UNWomenAust @Karla Mura ♬ Good Things (R3HAB Remix) - Wafia
Celebrities all over the world joined in to support it.
Through creative content marketing, inspiring stories, and engaging activities, the EmpowerMoves campaign successfully engaged Australians and women globally on the topic of empowerment and safety.
Why it worked
Making the public feel like their voice and stories matter in a cause always contributes to success in campaigns like these.
9. HBO Max's #BadaBinge
Platform
Twitter, Facebook, Instagram, etc.
The Campaign
HBOMax's #BadaBinge social media campaign was all about encouraging viewers to binge-watch all six seasons of The Sopranos.
The campaign was designed to promote their streaming service, HBOMax, and The Sopranos prequel, The Many Saints of Newark.
#BadaBinge used weekly check-ins, prompts, meme sharing, fan-compiled clips, and more.
The goal of this campaign was to increase brand awareness and digital engagement through social media platforms while also providing an entertaining experience for users.
As a result, HBOMax reached over 200 million streams of The Sopranos.
Why it worked
Customers like to feel part of something bigger, especially if it's fun! They'll also share it then, boosting the campaign's success.
10. Duolingo — "Adoption Center"
Platform
Twitter
The Campaign
Duolingo's "Adoption Center" campaign was all about gaining new customers by helping people join open slots on existing customers' 6-member family plans.
It also showcased their accessibility and how they stand out compared to other subscription companies that charge extra fees for sharing account passwords with additional users.
They started the campaign with 50 people walking the streets wearing a sign that had a scannable QR code that directed potential customers to the landing page of the campaign.
From there, they would be able to get "adopted" by people who had open slots in their accounts.
Why it worked
It worked because, basically, it's cute. There's something wholesome about being "adopted" on someone's Duolingo account — and it makes language learning accessible to more users.
11. Spotify: #YearWrapped
Platform
Spotify, Twitter
The Campaign
Spotify's #YearWrapped social media campaign was designed to engage social media users and encourage them to reflect on their year in music.  
With stats on the amount of time they spent listening, their top artists, and a playlist of their top 100 songs, the annual round-up has become a nostalgic tradition.
It is also easily shareable with friends and social media platforms, making it a viral social media tool.
It was well-received by the public and had an impressive reach, with millions of people interacting with the content.
Why it worked
It worked because of Spotify's unique combination of personalization, shareability, and seasonality, hitting all the right notes.
12. Virgin Group — Dyslexic Thinking
Platform
Facebook, Twitter, Instagram, YouTube, and LinkedIn
The Campaign
The Virgin Group launched a social media marketing campaign called 'Dyslexic Thinking' to promote positive awareness of dyslexia, a learning disability that affects one in 10 people across the world.
The campaign used creative visuals, videos, and powerful messages to encourage employers to think differently and embrace diversity in the workplace.
Through this campaign, Virgin Group aimed to help create an environment where everyone is accepted regardless of their abilities or disabilities.
The impact was profound, improving positive user engagement on the topic by over 1500% online.
Why it worked
They set about breaking down stigmas around this learning disability in a way that's empowering, uplifting, and literally job-creating!
13. Epson — Arctic Greening Awareness
Platform
Facebook
The Campaign
Epson's Arctic Greening Awareness social media campaign is about raising awareness of the effects of climate change in the Arctic region.
Epson collaborated with National Geographic explorer Dr. Isla Myers-Smith in highlighting the idea of making small changes that can collectively make a significant environmental impact.
In the past, Epson had a similar theme around promoting their heat-free technology in their inkjet printers, unlike other laser printers that use thermal heat.
This campaign continued its message with more powerful visuals, engaging content, and interactive elements on social media.
Why it worked
Epson targeted an audience who are environmentally aware and are easily motivated to care when a company makes it easy to supply their needs in a value-matching way.
14. Dove — #DetoxifyYourFeed
Platform
Facebook, Twitter, Instagram, and TikTok
The Campaign
Dove's #DetoxifyYourFeed campaign is about promoting positive body image.
The campaign made a serious effort to encourage moms to help their daughters unfollow toxic influencers who promote unrealistic beauty solutions.
#DetoxifyYourFeed encouraged young women to take control of their feeds by curating social media content that promotes self-love, acceptance, and respect.
It also encouraged users to report any negative or damaging posts on the social network.
Dove sent out a powerful message that beauty comes in all shapes and sizes and that everyone should be treated with respect regardless of their appearance.
Why it worked
Campaigns that expose lies and toxic content on social media (as it affects youth) will always get solid support.
15. Corona Beer — The Plastic Letter
Platform
Twitter, Instagram, YouTube, and Facebook
The Campaign
Corona Beer recently launched a social media campaign called "The Plastic Letter" about the issue of plastic pollution.
It included a short film, Imagine a World Free of Plastic, which showed viewers a letter written on the beach, with words dug out in the sand and filled with ocean plastic for effect.
Viewers were directed to Corona Beer's sustainability landing page, where they are encouraged to write a letter to their local government, asking them to take action and reduce the amount of plastic waste in their area.
In this way, Corona Beer hopes to spread the message that everyone can do their part in protecting our environment.
Why it worked
Volunteers helped make the video content for the campaign, effectively starting the campaign before it started!
Encouraging people to take action and showing them how to do it is simple yet effective.
16. Smirnoff's Social Ingredients
Platform
Instagram
The Campaign
The vodka brand chimed in for 100 days on trending headlines with a custom cocktail for each one.
For instance, for Britney Spears' victory in finally beating her conservatorship down, Smirnoff celebrated with a cocktail aptly named #FreedBritney.
They repeated the same concept for trending headlines like Squid Game, bats, and even the weather.
These trending topics already pump a huge amount of traffic, so Smirnoff benefited smoothly, with around 11 million impressions.
Not bad!
Why it worked
Smirnoff didn't reinvent the wheel but joined already-hot conversations with a fresh take (or rather, drink).
Their series of topical cocktails made for a brilliant campaign that can easily be repeated annually.
17. Zoom —  Logo Redesign
Platform
Twitter
The Campaign
Zoom updated its logo to expand its brand identity from just video-conferencing to more of a collaboration platform, remaining relevant as people return to in-person meetings.
It was also an effort to stay abreast of their competitors, such as Slack and Microsoft Teams.
Zoom added four extra O's to their logo so that the total of six O's can encapsulate graphics symbolizing their complete set of services, i.e., Team Chat, phone, meetings, rooms, events, and their contact center.
Why it worked
It's important to stay up to date with changes in technology and in how consumers use companies' service offerings and products.
Zoom noticed changes and adapted accordingly, ensuring they didn't fall out of the competition.
18. BuzzFeed x Friskies: Dear Kitten
Platform
Facebook, YouTube, Instagram, TikTok
The Campaign
Buzzfeed and Friskies collaborated in the creation of "Dear Kitten" videos, all about a little kitten learning from an older house cat how to "cat."
And, of course, cats rule the internet, so the launch video has over 32 million views on YouTube, and the follow-up videos passed 3 million views each.
The "Dear Kitten" campaign then flowed over to TikTok and went viral.
Meow!
Why it worked
Cute cats. With a cute script. On the internet. No explanation necessary.
19. Gillette: "We Believe: The Best Men Can Be"
Platform
YouTube, Twitter
The Campaign
Gillette's campaign was designed to challenge traditional ideas of masculinity and promote a more positive view of men.
The campaign utilized powerful visuals to tell stories about real-life men who were working to make a difference in their communities.
It also highlighted issues such as bullying, sexual harassment, and toxic masculinity.
By sparking conversations around these topics, Gillette hoped to create meaningful change and help redefine what it means to be a man in today's world.
Why it worked
Talking about gender roles, stereotypes, and inspiring a positive change is a distinctly personal approach to the target audience.
Time to create your own social media marketing campaign
What approach will you take to create and implement your own campaign? From the above review, you have a couple of options such as:
Joining a trending conversation with your own angle
Starting a value-based or society-based project, challenge, competition, or initiative that invites your target audience to participate
Including cats somewhere in your idea
A conservation/sustainability-based approach
Doing something that demonstrates the power and features of your product/service in action
A collaborative approach with other partners, companies, or relevant influencers
Breaking down a stigma or taboo on a topic
There is plenty of room for creativity, teamwork, and fun.
Also, cats. 🐈
Heideli Loubser is a wellness and education copywriter and a content marketing strategist helping you grow your business. She is also a solo homeschool blogging mom of two kiddos. When she's not wielding her powerful pen to help businesses and other parents, she enjoys gardening, painting, caffeine, and dark chocolate in large amounts.