27 SEO Keyword Research Tools to Rank Sky-High in 2023! ⚙️
So, you're a digital marketer with a website, online business, or eCommerce store, but how are you going to rank on Google without an SEO keyword research tool?
Spoiler alert: you're not.    
You know that SEO (search engine optimization) helps your content marketing rank high enough to be found by your potential customers.
But in order to get your content to rank in the first place, you need the right keyword.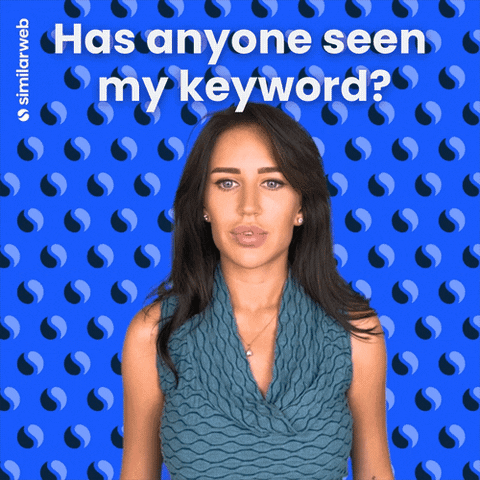 Hence SEO keyword research tools!
They help you find the perfect target keyword to focus on and similar keywords to target to rank even higher.
So, let's just skip the suspense and get on with it.
What Is a Keyword Research Tool?
Simply put, a keyword research tool expands on a keyword or keyword phrase, showing you related keywords and phrases people search for on a topic, service, or product.
The data is gathered from other search engines and interactive Q&A platforms to show you what people are searching for.
This gives you a list of content ideas and questions to cover in your content (such as your blog posts, website copy, or landing pages).
Keyword research tools also help you see which keywords your competitors rank for and gaps where your content can compete, rank, and get some of that traffic to your site.
SEO Keyword Research Tools
1. Google Search Console
Google Search Console is one of the most well-known tools because of its special feature called The Performance Report.
This tells you all the pages on your website that get the most hits via Google, and which keywords bring them in.
The trick to using this tool is to look for those keywords that rank somewhere between #8-#20 in Google.
Implement this in your on-page SEO strategy to boost your ranking.
For even better results, combine this tool with your Google Analytics account.
Pricing: Free
2. RankIQ
If you're not an SEO pro and you're looking for a simple tool, RankIQ is for you because it gets to the point quickly.
The tool does keyword data analysis and produces a simple, straight-to-the-point report suggesting the best keywords, topics, and title suggestions you should use to make your content rank.
Start with RankIQ's targeted Keyword Library to do your keyword search, and use the Content Optimizer to track implementation of keywords as you write your content.
Pricing: From $29/month
3. Keyword Snatcher
Keyword Snatcher is like a keyword-binging tool, giving you around 2,000 keyword ideas within a single search.
Set up the sources you want your keywords drawn from, give it a seed keyword, and hit "Get Suggestions".
It will blow up (with suggestions, that is).
However, this tool is helpful for ideas only. It won't tell you the search volume or the keyword competition on the keywords you've chosen to put in.
Put your keywords into the Google Keyword Planner to get that info.
Pricing: Free
4. LongTailPro
As its name indicates, LongTailPro is a keyword research tool to get big picture data of your chosen keyword and look at your ranking versus that of your competitors.
You can find less competitive keywords to boost your rankings and determine profitability while you're at it.
LongTailPro also enables you to track your ranking for specific keywords and phrases over time so you can see improvements as they happen.
Pricing: From $37/month
5. Soovle
Soovle is a free keyword research tool that collates data from up to 15 search engines like Google, Bing, Wikipedia, Amazon, YouTube, Google, and others.
You can set the ones you want it to use. Then, it gives you comparisons of related suggestions to highlight long-tail keywords you can target.
Save the suggestions you like best by dragging to the little book icon in the top left corner of the dashboard.
Pricing: Free
6. Ubersuggest
Well-known digital marketing guru Neil Patel created the free platform, Ubersuggest.
It gives you search volume data, keyword suggestions, keyword difficulty, related keywords, and content ideas.
Ubersuggest also gives you estimated traffic, backlinks, domain authority score, and even social shares.
Use your Google account to get access to more features, like personalized SEO suggestions.
Ubersuggest also has a Chrome extension to streamline your SEO as you're working.
Pricing: Free, paid from $12/month
7. AnswerThePublic
This funky keyword research tool presents keyword research in a visual, one glance, mind-map way (but you can change it to a list view if you prefer).
AnswerThePublic (also a Neil Patel joint) is perfect for SEO newbies — it's free and easy to use.
All you need to do is put your keyword search term in and see what it comes up with, based on Google and Bing's auto-complete features.
If you open any of those results, you'll see what content is ranking with those terms.
Pricing: Free, paid from $79/month
8. SECockpit
SECockpit is keyword research on steroids, mainly for SEO professionals.
Start with the usual step — put your keyword in to get results from the sources you select (such as Google Suggest, Related Searches, etc.).
SECockpit then unpacks that to give you:
Search trends
Monthly search volume
Organic competition
Estimated traffic
A metric that tells you whether the keyword you're researching has a good shot or not
Keyword difficulty based on the current top 10 results
Competition metrics, i.e., domain authority and backlinks
You can set the filters as precisely as you please to get even more specific results.
Pricing: From $25/month
9. Jaaxy
Jaaxy is a refreshingly simple keyword research tool where you type in your keyword or topic and you immediately get related keywords and their basic stats like average monthly searches.
Their unique feature is a domains column that shows you related domain names available for purchase.
Another cool feature is the ability to find relevant affiliate marketing programs you can join (along with their listed commission and program rankings) and add to your site.
Pricing: Free, paid from $49/month
10. Moz Keyword Explorer
Moz Keyword Explorer is a more comprehensive research tool but provides fewer data points than some of the other tools.
It's perfect for non-professional SEO marketers because the user interface isn't overwhelming but doesn't compromise on providing you with the essential metrics.
Along with the typical ability to search a keyword and see its monthly search volume and competitive ranking (indicated as a "Priority" score), you can also set your own score criteria and compare it with other suggested keywords.
Pricing: Free, paid from $99/month
11. Keyword Tool
Keyword Tool (heh) gives you a batch of keyword suggestions based on Google Suggest. You can filter and focus on specific ones or expand the results to find a better keyword to use.
Better still — you can also enter a competitor's site to analyze and suggest a more relevant keyword.
The search result can be surprising, suggesting terms that are key to your topic, but that you may not have optimized for SEO.
Pricing: Free, paid from $69/month
12. SEMRush
A pricey tool, SEMRush is your advanced box of tricks for keyword research, detailed search data, and comprehensive keyword analysis.
You can look into SERP features like snippets, reviews, site links, images, and more.
There's everything from basic search volume data to specific keyword gap analysis to help you see which keywords your competitors rank for that you're missing out on.
The cherry on top is that SEMRush has an SEO Content Template tool that helps you optimize your content while you write for readability, tone, and, of course, your keywords.
Pricing: From $119.95/month
13. Keyword Surfer
Keyword Surfer is a Chrome extension from Surfer SEO, giving you a more limited keyword search tool but one that's visible to you right on the search engine results page.
The search data and volume will appear in the search bar as you type, and when you hit enter, you'll also see related keywords and data on the right-hand side.
When you write, use Keyword Surfer's Content Editor to show you which terms to include.
Pricing: Free, full Surfer SEO from $59/month
14. Google Keyword Planner
Google Keyword Planner is one of the standard tools because the data comes from Google and is intended to help you with Google Ads — and it's free.
It can show you how much advertisers are bidding on keywords and indicate the competition.
It's not as flexible for SEO, but you can still use it to plan your keywords.
Pricing: Free
15. Ahrefs
Ahrefs is one of the most popular keyword search tools because you can get more in-depth data about your keywords than with almost any other tool.
Besides the typical search volume and competition data, you can also see things like the number of clicks on results.
The best part of this tool is its ability to give you specific information on how many backlinks you need to rank for your chosen keywords.
It's like getting a recipe with the ingredients precisely quantified — sharp!
Pricing: From $99/month
16. TubeBuddy
TubeBuddy is a browser extension for people who need to optimize their YouTube videos for SEO.
TubeBuddy includes a Keyword Explorer to gather long-tail keywords and trending tags for your content.
You can do YouTube-specific keyword research using data from YouTube and Google Trends.
It will rank the keywords (and videos using them) you're searching and provides an overview of interest in the topic over time.
Additionally, their videolytics tool shows you performance data, SEO, and more. The Map feature indicates where in the world interest in your chosen topic is based.
It even allows for A/B video testing.
Pricing: From $9/month
17. Wincher
If you want a tool to help with SEO optimization of your entire website, use Wincher to identify keyword gaps and track your ranking.
Instead of starting with your keyword, you put your website domain in, then you'll then see a report with keyword suggestions on the left that your site already ranks for.
A little digging will show you more keywords to focus on to improve your ranking.
Other filters you can tweak include traffic, volume, competition, and cost per click (CPC).
Pricing: From €29/month
18. QuestionDB
QuestionDB is one of the most simplistic keyword search tools you can use.
As its name indicates, it will show you questions people are asking related to your chosen keyword.
What's unique about the results is that QuestionDB includes questions from Reddit, Quora, and Stack Exchange on top of Google and Bing, so you get a much richer overview.
You can determine what people are saying and asking about a topic, as well as why and where, and use the info to plan your content.
Pricing: Free, paid from $10/month
19. Serpstat
Serpstat shows you the top Google results for your keyword, including the site that ranks first and other competitor details like visibility, traffic, etc.
Obviously, it's helpful to be able to analyze your competition showing on the first page of Google at a glance.
From there, you can work on your content and link building.
It's not the strongest keyword research tool, but it's decent enough.
Pricing: From $19/month
20. SpyFu
SpyFu is the spy you send to dig up your competitors' most profitable keywords (and even their ads!) to learn from them and see what you're missing.
You can view the results of more than one site if you create a free account to log in.
This tool collects data that presents you info of rankings over time for particular keywords, and whose rankings have fallen and risen.
It's a great comparison tool for your business.
Pricing: Free, paid from $33/month
21. AlsoAsked
As its name suggests, AlsoAsked is a free keyword tool that compiles questions listed on Google's People Also Ask data into a useful report for your content strategy.
This includes showing you a diagram with visual connections between related questions about your chosen keyword or topic.
It doesn't get easier than this keyword generator to generate new content ideas. It's like skipping stones. You can keep chasing related questions downstream.
Pricing: Free
22. GetKeywords
GetKeywords is a keyword research tool that helps you plan and emphasize local SEO keywords for your business, from the country down to the city level.
This makes it easier for local customers to find your business.
It will also show you related keywords in different categories like search intent, video searches, eCommerce, and question-based searches.
A bonus feature is that it reports average bounce rates and organic click rates for a keyword so you can immediately decide if it's worth it or not.
Pricing: Free, paid from $24/month
23. Google Ads
Google Ads keyword planner is obviously more intended for setting up ads, but it can be helpful to research keywords for other content as well.
You'll get pay-per-click (PPC) data more than organic search data, so bear this in mind.
It draws keyword forecasting from Google's own historical search data, but your actual results will depend on what keywords you're targeting and your approach.
You need a Google Ads account to use it, but you can do so without spending money.
Pricing: Free (requires billing info)
24. Google Trends
In previous articles, we've talked about using trends as part of your content marketing strategy.
Google Trends is a tool that helps you do this using keyword search trends. You can use it to see queries related to your specific keyword, and whether your keyword is a growing trend.
Additionally, you can check its trending progress on YouTube.
This type of data is invaluable for writing evergreen content because you can see how trending topics perform over the long term and choose the ones that will "last" the longest for profitable results.
Pricing: Free to use with a Google account
25. KWFinder
KWFinder combines power and simplicity in its keyword search features (which include most of the typical ones).
The primary appeal of this particular keyword search tool is that using it is intuitive.
It tells you the ranking difficulty for your chosen keywords, ranking them with a score without making you click to see it.
As you might expect, this tells you how hard it will be to rank for that keyword.
You can also look for low-competition, long-tail keywords.
Pricing: From $29/month
26. Sellzone Keyword Wizard Tool
The Sellzone Keyword Wizard is an Amazon SEO tool monster, working with an arsenal of over 200 million keywords.
And yes, Amazon sellers use it to optimize their product listings.
You can do the same or just use it for normal keyword research. A keyword search will show relevant keywords and phrases and from there, you can filter by focusing on competitors, specific words, phrase length, etc.
Pricing: Free, paid from $50/month
27. Keywords Everywhere
Keywords Everywhere is another spy-like tool — a Chrome extension — showing keyword data on top of 10 websites.
This is extremely useful and includes data from sites like eBay, Amazon, and AnswerThePublic.
It also provides related keywords from Google's search results and keywords customers use when they're not yet searching for your offer.
In other words, it helps you target keywords that bring your customer closer to the more obvious keywords related to your offer.
Pricing: From $10/100,000 search credits
Your Search for the Best SEO Keyword Research Tools Is Over
Now that you've got a handle on the best SEO keyword research tools, nothing can stop you from ranking.
No matter what kind of SEO keyword research is necessary for your SEO marketing, there's a tool here for everyone.
And hey, using any of these tools will guarantee you more traffic and success!
Heideli Loubser is a wellness and education copywriter and a content marketing strategist helping you grow your business. She is also a solo homeschool blogging mom of two kiddos. When she's not wielding her powerful pen to help businesses and other parents, she enjoys gardening, painting, caffeine, and dark chocolate in large amounts.