How to Build Brand Awareness (& Authority) in 2024!
Does your digital marketing strategy need fresh ideas for building your business's brand awareness?
That's, um, why you're here, right?
Increasing brand awareness is a crucial part of your marketing strategy and needs to be a top priority.
There are many ways to build brand awareness, but it's hard to know which marketing efforts will give you the best results.
We've gathered the best marketing techniques for increasing your brand's awareness, so you don't have to do all the market research yourself.
Let's get started!
What Is Brand Awareness?
Brand awareness is a term used in marketing to describe consumer recognition and brand recall.
It's how well people know your company's name and products and how informed they are about the brand experience.
For example, do they use your brand name when talking about a specific product?
Like when someone asks for a Kleenex (brand specific) instead of a tissue (the generic term).
Brand awareness matters when determining how successful a company's marketing campaign will be.
Brands with strong brand awareness are more likely to engage potential customers, generate revenue, and achieve long-term success.
What's the Difference Between Brand Awareness & Brand Recognition?
Brand awareness and brand recognition are not the same things.
Brand recognition is when a logo, color scheme, or other visual elements make a brand recognizable.
For instance, everyone knows golden arches mean a McDonald's restaurant is nearby. That's brand recognition.
Brand awareness is being intimately familiar with the brand experience.
It's imagining tasting hot, salty french fries and sipping an icy cold Coke through a (somewhat magical) straw while enjoying the special sauce on a Big Mac.
When consumers have brand recall at that level of detail, you have a lock on brand awareness.
The Importance of Brand Awareness
Brand awareness has many positive effects on a business.
Brand awareness helps with:
Building customer loyalty with existing customers
Establishing a relationship of trust
Becoming a credible authority in your field
Guiding customers gently through the customer journey
When people are familiar with a company, they're more likely to trust it.
And when people trust the company, they're more likely to become loyal customers.
Brand awareness also creates an emotional connection with the brand, positively affecting purchasing decisions.
When customers have a positive emotional interaction with your brand, they'll come back to you again, wanting to repeat that customer experience.
How To Increase Brand Awareness
The importance of brand awareness has grown as competition has increased and consumers have become more discriminating in their choices.
Fortunately, there are many ways you can increase your brand value.
Let's take a look.
1. Show your humanity
People buy from other people.
It's an idea that's been around for a long time. And it sticks around because it's true.
A potential customer doesn't want to buy from another business. They want to buy from someone they know, like, and trust.
Share your hobbies, likes, and dislikes. Talk about the music you listen to, the podcast you just discovered, the new cooking technique you're experimenting with.
What are you passionate about? What values does your small business have?
Share these things with your audience. Let them get to know you.
2. Hang out with your tribe
Where does your target audience hang out? Are you there with them?
Do you respond to comments on your social media posts? Do you reply to direct messages and emails?
Is your email marketing strategy sending regular emails to your email list? Or are you guilty of sending emails only when you have something to sell?
Regularly connecting with your ideal customer keeps you top of mind when someone is ready to buy.
One of the best things you can do is create a buyer persona.
It helps your audience get to know you. And you them.
It shows them you're genuinely interested in helping them.
3. Create a narrative
You may not believe it, but your business has a story. You have a story.
And stories bring people together. They help you stand out and make you more memorable.
What is your story? How did you get started in your field?
What about your business? What obstacles have you overcome?
These stories connect you with your audience.
4. Make sure it's easy to share your content
Word-of-mouth advertising is the best free advertising you can get. And it's a great way to increase awareness of your brand identity.
But it doesn't happen by accident. You need a content marketing strategy.
Make it easy for your audience to share your content marketing.
Use social sharing plugins on your blog, so readers can share your blog posts.
Install the Pin It button on your website so visitors can pin your content or products to their favorite Pinterest boards.
Reward your loyal customers when they refer new clients to you by starting a loyalty program.
Provide them with sharable graphics and other content tools so it's easy for them to tell their friends and family about your business.
5. Utilize native advertising
Native ads ‌blend in with other content on a website. You frequently see them on news websites like BBC or NPR.
These ads look like any other article or post on the site, but they carry a promotional message.
Businesses use native ads as part of their brand awareness marketing.
Native advertising is becoming more popular in digital marketing because it allows brands to reach consumers unobtrusively.
6. Launch ads on social media
Social media advertising can be great for your brand awareness efforts.
Reach potential customers with social media marketing by targeting them with relevant content to get them interested in your product.
Use tools like lookalike audiences to find people similar to your existing audience or another brand's audience that would be a good fit for your business.
Each social media platform has resources to help you set up and run a successful brand awareness campaign.
7. Work with influencers
Influencer marketing is another way to build brand awareness.
Working with influencers is like guest posting on someone else's blog or being interviewed on a podcast or YouTube channel.
You're leveraging another entrepreneur's audience to grow your own.
Influencers might share your social media posts with their followers. They might invite you to their channel for a live stream.
Some influencers will demonstrate your product or talk about how your service helped them.
Because the influencer has built trust with their followers, their audience is more likely to follow their endorsement.
Brand Awareness Strategies
Here are some specific ideas to help build your brand awareness strategy.
1. Guest blogging
Guest blogging is an effective way for you to reach new audiences and increase your brand image.
Look for opportunities in niches that are complementary to your business.
For example, if you sell custom jewelry pieces, write a guest post for a fashion website.
If you're an accountant for solopreneurs, guest post for an accounting software company.
Guest blogging doesn't just allow you an opportunity to build your online presence and create more brand awareness.
It's also an opportunity to establish relationships with other small business owners who might refer your business to their network.
To find guest blogging opportunities, here are search terms you might try.
"your niche" + guest post
"your niche" + write for us
2. Design sharable infographics
Infographics are a visual representation of information. They're a great way to communicate complex data in an easy-to-understand format.
And they also help with brand building. Infographics work well because they're highly sharable content.
If you have a sharable branded infographic, other businesses will link to it to help their readers understand a topic.
This establishes you as an authority, and it gets your brand in front of a new audience.
You can always use infographic design services to help you create a branded infographic.
3. Use keywords to optimize for SEO
Search engine optimization (SEO) is a way to get your content to appear in organic search results.
For example, if someone searches for best resume templates for 2024, you want your blog post about resume templates to be one of the first results they see.
Start adding your keywords to your blog posts and metadata to help your SEO content rank. Choose keywords that show an informational user intent.
An SEO marketing tool like Ahrefs will help you find the right keywords to add to your blog content and web pages.
4. Partner with other brands
Working with other brands is a great way to build brand awareness.
You want to choose a company that is complementary to your business.
If you're a wedding planner, partnering with wedding photographers, bridal boutiques, or flower shops will get you in front of the same people who need your services.
You could co-host a live stream on Instagram where you discuss the hottest trends for the upcoming wedding season.
Or you could highlight nearby tourist attractions that out-of-town wedding guests might want to visit during their stay.
5. Advertise the heck out of your brand
We mentioned native ads earlier, but you can use many other ad opportunities to get your business name out there.
All the social media platforms offer advertising opportunities.
And, of course, there's Google Ads.
Look into advertising on the channels where your target market spends time. The only limit is your budget.
If you set up your ads to run simultaneously with your guest appearances on podcasts and blogs, you'll look like you are everywhere.
The more users engage with your brand name, the more credibility you have and the more momentum you build.
6. Begin a referral program
Referral programs are a great way to gain word-of-mouth advertising.
People referred to a business by a friend or family member are four times more likely to make a purchase than someone who isn't referred.
Customers who come to you via referrals have a 37% higher retention rate than customers gained through other channels.
And 81% of consumers are more likely to patronize a business that offers a referral rewards program.
Referral marketing works.
And the rewards to the referring customers don't need to break the bank. The reward can be as simple as a percentage off of their next purchase.
7. Leverage organic social media
We mentioned social media ads earlier, but your organic social media strategy is also good for building brand awareness.
When creating social media content, look for ways to be useful to your audience.
Can you share with them tips that will solve a problem?
Can you generate social media engagement, such as creating memes that resonate with your audience?
How about holding a contest on one of your social media channels?
You can encourage your followers to get involved and share the contest details with their followers.
And if you're getting brand mentions or customers are sharing success stories on their social media, leverage user-generated content.
But first, ask for permission to share their posts on your social media channel. Most customers will be flattered and willing.
8. Develop a unique personality for your brand
You have a unique personality, and so does your brand.
Developing a brand voice and tone for your business helps it stand out from the competition.
Is your brand personality funny? Sarcastic? Sweet? Serious?
If you need some inspiration, look at Dove or Old Spice.
Dove's personality is a cheerleader for women. Women of all sizes, shapes, colors, and ages. Women who define for themselves what genuine beauty is.
Old Spice has a different approach. They're silly, and they poke fun at men and the ideal of manliness while also promoting body positivity in men like Dove does with women.
Each brand has similar objectives for its target audience, but the brand personality is different.
9. Launch a podcast
Over one-third of Americans listen to podcasts regularly. So if you like to talk, podcasting might be a great way to expand your brand visibility.
It's an effective way to share information in an informal, conversational tone.
You can also use podcasts as an educational tool to help your target audience solve their problems.
Podcasts are great because listeners can take in your content, whether they're on the go, working out, or cleaning the house.
And starting a podcast isn't complicated. With tools like Anchor, an inexpensive microphone, and a quiet environment, you can connect with new listeners in no time.
10. Offer freemium
Freemium is a digital marketing strategy where a product or service (typically a digital offering or software application) is provided for free, but the available features are limited.
To access all features, you need to upgrade to a paid plan.
An email service provider such as MailerLite offers a freemium service. When you sign up for the free level of MailerLite, you can email your subscribers for free.
However, at the bottom of each email they send, MailerLite branding is visible, so they get a brand mention.
If businesses want to remove the MailerLite branding from their newsletter, they must upgrade to a paid plan.
11. Give stuff away
Everyone loves free stuff. And it's great marketing.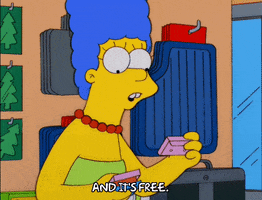 ConvertKit gives a free t-shirt to their customers when a ConvertKit user sends out their first email. The t-shirts have the ConvertKit name and logo.
Every time someone wears their free ConvertKit t-shirt, the ConvertKit branding reaches a new audience.
But you don't have to give away a physical product. Digital products work, too.
Anne Bogel of Modern Mrs. Darcy gave away a free printable reading journal to everyone who signed up for her mailing list. Book lovers across the internet shared the link to the sign-up page.
Anne's email list expanded rapidly because she gave people a helpful product that targeted a pain point for readers.
12. Try remarketing
Remarketing campaigns target visitors who came to your website but left before joining your email list or making a purchase.
Retargeting campaigns use a person's browsing history to show them ads for the same product or service they were looking at.
They're used across search engines, social media networks, and web browsers.
Retargeting brand awareness campaigns are most often used by companies that sell products online.
It allows them to advertise to people who have already expressed an interest in their product.
Retargeting campaigns are an effective way to generate leads and sales for your business.
Your target has already expressed an interest in your product or service; you just need to lure them back.
Measuring Brand Awareness
While high brand awareness is a murky concept to track, brand tracking is an essential task.
There are a few brand awareness metrics you can use to see how well your marketing campaign is working.
Quantitative
Quantitative measures are data you can count and measure.
First, look at your website metrics. Google Analytics is a great brand awareness marketing analytics tool.
How many visitors are coming to your website by typing your web address directly into the search bar?
Look at your overall site traffic. How many people are visiting your site? How long are they staying? What content are they looking at?
Next, look at your social media analytics.
What is your digital engagement like? Are people commenting, liking, and sharing your content? Is your follower count growing?
Qualitative
Qualitative measures are a way to describe and understand the impact of your business on an individual.
It includes things like:
Users' opinions about your business
Customer reactions to using your product or service
The brand equity customers and clients perceive when using your business
Use Google alerts to see how often your brand is being talked about and what people say.
Read customer comments and success stories about your brand on social media channels.
Survey your audience periodically to see how they feel about your brand and the experience of working with you.
What Will You Do To Build Your Brand Awareness?
Increasing brand awareness can be a challenging task.
There are so many platforms and methods available, but we've laid out straightforward ways you can increase your brand awareness this year.
You'll build trust with your audience, build brand loyalty, and increase your authority in your niche.
Now you just need to take action.
Jennifer Ayling is a prize-winning SEO website copywriter. She specializes in helping business owners get their thoughts and ideas out of their heads and onto their websites.