Boost Your Social Media Engagement in 2023 (10+ Tips!)
Boosting your social media engagement is essential for your social media strategy.
Obviously. 🙄  
However, there's no one-size-fits-all in social media marketing because various variables increase engagement.
But don't panic! We're going to show you ways to make it work.
So, if you're looking to boost your social media engagement rate and ultimately generate sales, we'll stock your social strategy arsenal to fire hard and fast.
Let's get started.
But first...
What Is Social Media Engagement?
Social media engagement is the amount of interaction your social posts receive.
It is a critical factor in establishing your online presence, and you can measure it over a given period or per post.
Either way, it allows you to understand how much people like your content and how they respond to it.
Social media engagement is among the most everyday actions on social platforms; examples include likes, comments, shares, retweets, saves, reposts, etc.
When people engage with your content, they tell the algorithm that your posts are worth showing to more users.
Although there are a lot of social media engagement tools, organic reach is declining across most social platforms.
So, you want to improve your social media marketing strategy to maximize your visibility.
Why Is Social Media Engagement Important?
A highly engaged audience can be leveraged for long-term brand loyalty and revenue, while a disengaged audience may become a lost potential customer.
The former means that social media engagement increases reach and allows your brand to get in front of more faces.
Social media engagement metrics determine the success or failure of your content marketing efforts.
If your content is not actively engaging your target audience, they'll be moving on to the next piece of content that piques their interest.
Another important reason for an intentional social media engagement strategy is building relationships and forming connections.
About 53% of Americans are more loyal to brands they follow on social media.
We can listen to our customers more personally through optimized social media engagement posts.
In other words, the more engaged your customers are, the more customer loyalty you'll build for your brand.
Engaging your customers also stems from excellent customer service. The more authentic connections you make through your social media channel, the better your chances are to drive sales, increase ROI and grow your brand presence.
Strategies to Boost Social Media Engagement
Every successful business starts with an underlying strategy. The same is true for social media marketing.
Your social media management activities may be ticking all the right boxes, but they are unlikely to impact if they are not backed with strategies.
Without a well-thought-out plan, you may lose sight of your overall digital marketing goals and become distracted by other tasks.
The good news is that there are digital marketing strategies you can use to increase your social media engagement.
Let's dive right in!
1. Scrutinize your engagement
You can't improve what you can't measure. Most social media platforms have an analytics tool for tracking insights.
If not, various third-party marketing tools act as social media engagement calculators, helping you scrutinize your engagements and measure them.
Analyzing your audience engagement across platforms is the first step to seeing what's working and what's not.
First, you can look at the numbers across all platforms — from the number of followers to comments to shares, likes, and favorites.
This will give you a starting point and help you work on achieving a good engagement rate.
Another step is to look at how people respond to your posts.
If you notice that a particular content type gets more comments or reactions, it's probably because it resonates with your audience.
So, try to replicate what's working.
2. Tweak your social engagement goals
Many digital marketers don't always immediately grasp their social media engagement goals.
So, you're not alone if you're one of them.
Nonetheless, it's vital to have objectives because it gives you something to measure success against.
It's necessary to tweak your current engagement goals or establish new ones occasionally.
First, you can identify what works best for your brand and then adjust.
If the top priority is increasing brand awareness, you may want to focus on posting social media content that attracts new followers and customers.
Or perhaps lead generation is a priority for you. Then you may tweak your goal of increasing followers and focus more on converting followers into leads.
You can do this through email marketing or influencer marketing.
You can test everything from visitor navigation to quality content to offers. But, be sure that you only change one variable at a time to know what is working and what isn't.
Regardless of which direction you choose, make sure it aligns with your organization's overall strategy.
3. Pinpoint your target audience
There are many factors to consider when crafting a social media strategy. And pinpointing your target audience is top on the list.
You can gather information about your audience through customer surveys, website analytics, social proof, and focus groups.
With marketing segmentation, you can develop customer personas that reflect their likes and dislikes.
By identifying your target audience, you can effectively tailor quality content that they can engage with.
You also need to know what platforms your customers use most to ensure you're spending effort there.
For example, if your target demographic is primarily women ages 18-35 who are married and have children, Pinterest or Instagram may be an excellent place to start.
Or, if your customers are more interested in long-form business content, focusing on LinkedIn may be a better choice than trying to drive Twitter engagement with short-form content.
Once you've identified the right social platform(s), it's essential to curate content that does well on those platforms.
4. Shake off your social (media) anxiety
One of the most common hang-ups businesses have regarding social media is fear. Fear of posting too much or too little, sharing the wrong things, losing followers, etc.
The first step to boosting engagement on social media is embracing social media for what it is — a social network.
Social networks require being social.
So, being real instead of being ideal is a great strategy. Use that authenticity as the foundation for your brand's online presence.
It's also important to be available to interact and engage.
Make sure someone — be it you or another employee — is available at stipulated times. Or you can use social media engagement tools.
Ideally, both for 24/7 engagement.
Every social media platform has unique features designed to encourage conversation and user engagement. Polls, Instagram Story posts, tags, mentions, hashtags, etc., are all great ways to increase engagement.
5. Level up your content
Content marketing is an essential part of any successful social media marketing strategy, but it's easy to fall into the trap of creating content for the sake of creating content.
People may not remember what you said, but they'll never forget how you made them feel.
So, if you want them to engage with you, your content needs to be valuable and compelling.
There are so many content formats that can pique their interests — videos, GIFS and memes, Stories, etc.
While offering value, it is also necessary to write content that resonates with your audience — whether a social media post or a blog post.
A great way to create valuable content is by highlighting your audience's pain points and proffering solutions.
Another way is to spice up your content and not stick to a particular format or content type.
6. Talk about what's trending
Piggybacking on current trends is another strategy to boost engagement.
When you talk about what people are already talking about —  pop culture, seasonal trends, or national events — they're more likely to pay attention.
Create a list of topics you want to post about (trending hashtags, popular movies, TV shows, national holidays).
Brainstorm how you can tie those topics into your brand or business.
Start posting!
7. Consistency is key
Posting consistently helps your social marketing and builds a loyal following.
It also indicates seriousness and professionalism on the part of the brand.
It's no secret that consistency is a tough nut to crack, but there are ways to make it easier — tools!
Different social media automation tools help schedule posts.
You can schedule as many posts as you like, and marketing automation tools can eliminate the mundane, repetitive tasks nobody likes to do.
Just be sure to respond promptly to messages and interactions on your page to build rapport.
8. Humanize your brand
Consumers today want to feel like they're a part of something, even from the brands they love and buy from.
And being human is a great way to connect on an authentic level.
One way to begin is through personalized posts. For example, show off your team behind the brand and get more personal.
This allows your audience to understand who's behind the brand and what inspires them.
Another way is through behind-the-scenes (BTS) anecdotes. BTS allows you to connect with your audience deeper by peeling back the curtain on what makes you tick and how your business works.
You can also infuse humor into your content while sticking to your brand style. It could be through memes, funny posts, or reposts.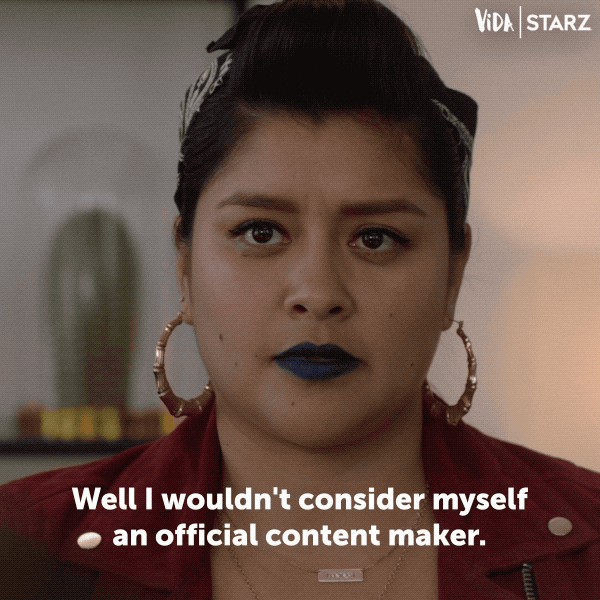 9. Scheduling mattters
To post effectively, consistently, and timely, scheduling matters.
However, it's not enough to just schedule without a plan. Scheduling your social media posts at the right times on the right days ensures that you have a broader reach.
So what is the right time and day? There's no one-size-fits-all answer.
It depends on your audience, where they live, what social platforms they're on, and what kind of content you're posting.
You can gain insight into the average time of day when your audience is most active on social media by using engagement monitoring tools.
Tools like Sprout Social or TweetDeck help you view data on when social media users are engaging with your brand's content.
Then, you can schedule your posts for those times.
10. Cross-promote across all social platforms
Cross-promotion is a great way to get the most out of your content and keep people coming back for more.
When done effectively, it allows your followers to see more of your content without feeling overwhelmed by too many posts in too short a time.
Here are a few ways you can do it:
If you're publishing a video on Facebook, you can link to the same video on YouTube.
If you're running an Instagram ad, you can lead people who "swipe up" to a blog post on your website.
When someone replies to one of your tweets, you can respond with a direct message that links to a resource or another tweet that might be helpful.
11. Boost engagement with contests and giveaways
People love free stuff, and if they have something to gain from engaging with your content, they're going to do it.
Contests, promos, and giveaways are great ways to get people to talk about your brand.
The key is to make sure that you're offering something that people want.
It is also essential to set clear guidelines and keep them simple. If people have to jump through too many hoops to get their hands on your freebie, they may not bother.
It could be as simple as "follow us and tag a friend in this post to win XYZ."
It could also be as complex as a multi-week campaign where users have to perform various tasks.
12. Keep up with the algorithms
You're not alone if you've struggled to keep up with the ever-changing social media algorithms.
First, it's essential to be aware of trends in the algorithms that dictate what users see and don't see.
For example, did you know that Instagram prioritizes video content over static images?
Or that Twitter is more likely to show a tweet from a "verified" account than one from an average user?
So, you need to make good use of social media analytics tools or the built-in analytics on social platforms.
This feature can give you a better idea of when and how people interact with your content.
And ultimately help you post better content!
Measuring Social Media Engagement
Facebook
Facebook Audience Insights allows you to learn about the content your followers are looking at and how they're engaging with it.
With the data you gather, you can discover how best to serve your customers.
You can also use Insights to understand who your audience is, their interests, and their activities.
The Insights feature also allows you to see the reach and impressions, engagement and actions, views, and profile visits.
Twitter
Engagement on Twitter falls into four categories: retweets, replies, mentions of your username, and clicks on links associated with your tweets.
To access Twitter Analytics, click on the Analytics tab on your Twitter profile. You'll need to have a Twitter ad account to use this social media tool, but it's free and easy to set up.
You can track engagement rate, reach percentage, link clicks, and even the optimal posting time.
Instagram
Instagram's analytics is similar to Facebook. Once you've created an Instagram business account, you can access Instagram Insights by clicking on the bar graph icon in the top right corner of your home screen.
However, you'll only be able to access Instagram Insights on your mobile device.
Some social media engagement metrics to consider are:
The number of followers
Reach (the number of unique accounts that saw your post)
Impressions (the number of times your post appeared on people's screens)
Engagement rate (the percentage of people who saw your post and took action)
Website clicks (the number of people who clicked a link in your bio)
TikTok
TikTok is the newest kid on the block and a favorite for various reasons. (And no, you don't need to know how to dance to begin).
It's new to most people, so it's best to use its analytics to help you take the guesswork out of the rules of engagement.
In-depth insights are available to pro accounts, and you can see audience demographics, profile views, and even content statistics.
TikTok analytics can also show the number of video clicks and if people watched them till the end. It can also show the number of your saved or shared videos.
And on a final note
The best way to accomplish all of your social media engagement objectives and build out the perfect social strategy is to have a deep understanding of your audience.
Collect different information about them, do some research, ask questions, and be sure to listen!
Getting results will be much easier once you understand how to talk to your audience.
C'mon, you can do it — get out there and be social!
Dozie Anyaegbunam is a B2B content writer and strategist. A Cannes Lions certified storyteller, Dozie has crafted compelling content for brands such as Mirasee, SmartBlogger, Growth Mentor, and more. He's also Dodo and Ronan's dad, a proud flâneur, and a Felix Baumgartner wannabe. Don't miss his podcast, The Newcomers, where he interviews immigrants about the struggles and lessons that come with starting life in a new country.